Click To Buy
Click To Buy
Click To Buy
Always worried about your child's safety? You can't be with your child 24/7, but this smartwatch will let you keep an eye on your little one. You can interact with him whenever you want and track him anytime using the GPS function. Surprise your little one with this stylish and vibrant smartwatch from Riversong. Featuring a funky orange color, this smartwatch will surely be your child's favourite accessory.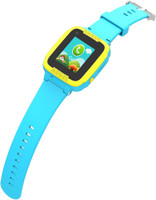 Keep yourself updated on the whereabouts of your little one. You can pair this smartwatch with your smartphone and track the exact location of the watch.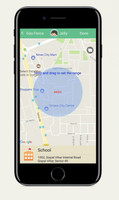 Geo Fencing and Triple Tracking Mechanism
This IoT-enabled smartwatch supports GPS (Global Positioning System), LPS (Local Positioning System) and Wi-Fi. Everytime your kid steps out of a set radius, the Geo Fencing function will keep you informed with alerts.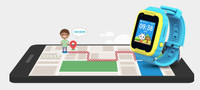 Maintains Tracking History
Sometimes your kid's phone might not be reachable or he may get into a tricky situation. Don't worry, you can track your kid on a virtual map as this smartwatch tracks the route that your kid takes.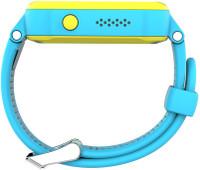 If the smartwatch runs out of power, you will receive an alert notifying you about your child's last location.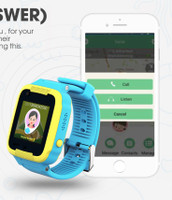 Rest assured of your child's safety with the Auto Call feature. It lets you listen in on your kid and also his surroundings without his knowledge.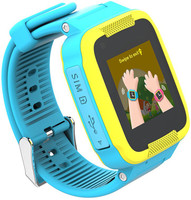 The thought of your child getting into trouble is terrifying, isn't it? Relax, your kid just needs to tap a single button to notify you.

Stay connected always. Call him or send him a voice message whenever you want. Numbers that are not authorized by the administrator are automatically blocked.
Make use of the Inbuilt Classroom mode to mute all the sound related functions. This will let your kid concentrate during his classes. The Alarm feature helps schedule various activities so he is always on time.
The 350 mAh battery is good enough to keep it up and running for a long time.
Smartwatch, Charger, User Manual

Notifier, Safety & Security
iPhone, Android Smartphones

Upto 48 hrs (Based on Usage)
Platform And Storage Features
Compatible Operating System
Camera And Display Features
Fitness And Watch Functions
6 Months Manufacturer Warranty